Due to the horrible weather forecast for this weekend the Turkey Fun Fly has been moved to Saturday November 25th (rain date is November 26th).  Check out the calendar event for more info.
The solar charging station is now complete.  It's located under the canopy at our field and is open to all JCRCC member.  This will enable members to charge their backup batteries while flying thus allowing you to stay at the field longer.  Since the charging station uses solar panels to charge a set of 12 volt automotive batteries members may still charge their flight batteries when there is no sun during cloudy days.
We would like to send a huge thank you to Tony G who made this happen along with the people who contributed financially to this project.  I know this will be a huge advantage to our club all while staying save for the environment.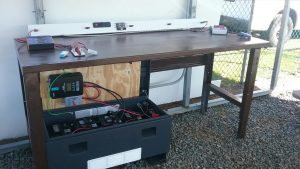 I am sad to inform you that Frank Gustafson is selling the store and retiring. I am sure this goes without saying but everyone at JCRCC would like to thank Frank for the years of service he has provided not just for members of this club but for the hobby as well. We will surely miss his smile and eager attitude while visiting his store. We wish you well as one chapter closes and another one begins.
Can you please post on your web page, and newsletter, and let the club members know that Jackson Hobby Shop is up for sale. The business was started in 1969 ,a lucrative hobby shop and one of the oldest one in NJ. I will be retiring in March of 2018 because of medical reasons. The business is up for sale for $200,000 firm. Any one that is interested can contact Brad Palmer, at Crown Business Brokers, at (908)364-6920 or email him brad.palmer1@aol.com. Anyone that has ever been to the shop knows we have an extensive amount of inventory for all facets of the hobby industry. For all of my customers and friends, which are more like family, this is a sad time in my life and one that I am sorry to see happen.

Thanks again for all the wonderful years this has given me. It's been my pleasure to serve you.

Frank Gustafson

Jackson Hobby Shop
2275 West County line Rd Bennetts Mills Plaza Jackson NJ 08527
732-364-3334
jacksonhobby@aol.com