Welcome to Jersey Coast Radio Control Club
JCRCC is one of Central Jersey's premier organizations for radio control modelers.  Our mission is to promote and advance our hobby while maintaining a safe flying environment for the entire family.  JCRCC is a non profit organization that has been in existence for over 50 years.  We have a lease on a beautiful, club-maintained field located in Allaire State Park off of Hospital Road.  Spectators are always welcome.  A spectator parking area with Porta-Pottie is available along H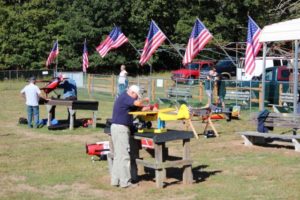 ospital Road within walking distance of our field.  We have many experienced model pilots.  Some have competed in national events.
A safe and accessible flying field that is open year-round during daylight hours with access to convenient parking and a Porta-Potty.

Exclusive motor vehicle access for our members except for special club events that are open to the public.
A junior membership option
A training program
Liability insurance provided through the Academy of Model Aeronautics (AMA)
Family fun-fly events
Competitive events
Professional, weekly field maintenance during the flying season
Radio frequency management
A flight line with five
work stations
Shaded areas exclusively for licensed AMA members and a shaded seating area for the general public
The club Website- jerseycoastrcclub.org
A holiday party
Discounts at local hobby supply stores
A structured club organization (President, VP, secretary, treasurer, etc.)
Upcoming Events
18

The club meeting is every 3rd Thursday of the month starting 7:00pm unless otherwise noted for that month. Meeting is open to current and prospective members.

NOTE: The meeting will be held at the flying field this month.

28

*** MOVED TO SUNDAY JULY 28th BECAUSE OF HEAT ***

OUR SUMMER BBQ WILL BE A BIT DIFFERENT THIS YEAR, OUT BILL OF FARE IS OF A INTERNATIONAL FLAVORS………

YES MEMBERS WE ARE TALKING …HOME MADE GREEK CUISINE….

IF YOU HAVE EVER HAD THE PRIVILEGE TO TASTE THIS TYPE OF FOOD THAN YOU KNOW WHATS COMING, IF YOU HAVENT THAN YOUR TASTE BUDS ARE IN FOR A GREAT TREAT….THE AROMATIC AND GASTRO DELIGHT IS SOMETHING TO BEHOLD.

COFFEE AND STUFF WILL BE READY AT 9am ……..AND LUNCH WILL BE AROUND 12:30pm

AS ALWAYS THERE WILL BE OPENING FLYING TO ALL MEMBERS, IF YOU BRING A GUEST THAT PERSON CAN FLY ALSO WITH PROOF OF AMA, AND THAT MUST BE CHECKED BY A BOARD MEMBER.

DONT FORGET ALL AIRCRAFT, HELI AND DRONE MUST HAVE A FAA# ON THE OUTSIDE OF THE UNIT, MARKINGS CAN BE ANY SIZE OR COLOR.

DONT FORGET ABOUT THE CLUB 50/50 AS THAT MONEY GOES TO PAY FOR THE CLUBS EVENT…….THIS YEAR THE 50/50 HAS BEEN CHANGED………ONE TICKET IS $5.00…..3 TICKETS ARE $10.00

Rain Date is July 21st.